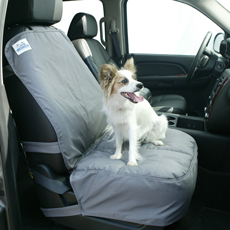 Doggie on Seat Protector in SUV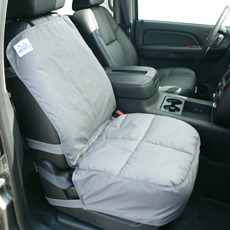 Bucket Seat Protector in SUV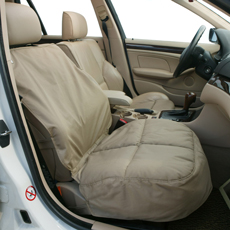 Bucket Seat Protector in BMW

Semi-Custom Front Bucket Seat Protector
These Pet Bucket Seat Protectors provide the same comfortable seating surface as the custom and semi-custom rear seat protectors. These bucket seat protectors are made and designed to protect the front seat(s) and provide a soft comfortable place for your favorite doggie that wants to sit in the front seat, look out the window and feel the wind on their face. These front seat protectors provide a semi-custom fit (partially custom) to the front seats only.


|
View Colors

Dog Bed Features:

Fits most bucket seats up to 24" seat back height / 23" seat back width / 20" seat base cushion
depth & 21" width.


The "skirt" around the base is 7" high and is not a critical measurement, but it does help keep the
base in place NOTE - Do not install if straps
interfere with side-impact airbag deployment
panels or openings!


There are two durable fabrics polycotton drill or polyester suede with paw prints (Crypton), both with durable water repellent finishes (DWR).


Choose from durable polycotton drill or polyester
suede fabrics, both with durable water repellent
finishes.


Padded bolsters and floor pad provide five-star canine comfort.


Both fabrics "breathe" to assure travel comfort.


Both fabrics provide a textured positive footing
surface.


Rolled sheet batting is used on the bolsters as well,
also encapsulated inside a waterproof nylon pouch.


Twin zipper pulls on both compartments to allow easy removal of the padding when the one-piece outer cover is cleaned.


Quilted padded seat base for additional canine
comfort.


Nylon liner for added protection of covered seat.


Non-slip grip material on underside of seat base
reduces movement and slipping.


Installation straps wrap around seat and have
adjustable hook & loop closures.


Webbing strap for headrest area is adjustable and has easy-to-use side-release buckle.


Generous hook & loop flap opening accommodates most seat belts.


Security "pods" and adjustable headrest straps help hold the Protector in place.


Easy care - machine washable.


Choose from eight (8) polycotton colors, four (4) Crypton colors or four (4) True Timber Camo colors.