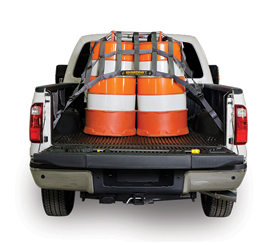 Cargo Net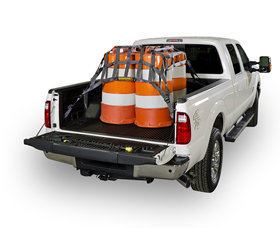 Cargo Net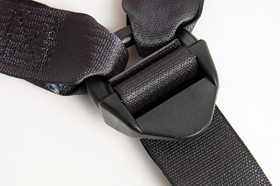 Quick Tite Buckle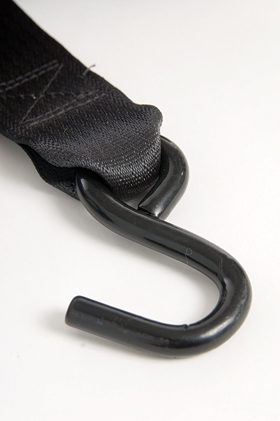 Rubber Coated Steel Hook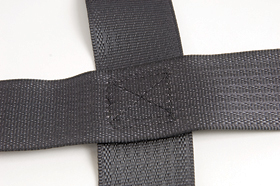 Webbing and Stitching
Bednet®
The Bednet® Cargo Restraint System (CRS) is designed to quickly and safely secure most cargo loads in the bed of any pickup truck. The Original Bednet® CRS is a one-piece cargo net, made from the toughest polyester seatbelt webbing, use rubber coated steel hooks and super tough nylon quick tite buckles. The coated rubber hooks and super-tough nylon quick tite buckles won't scratch the vehicle's painted body surface. The straps are integrated into the cargo net so they cannot be lost or detach from the cargo net. The Bednet® is the perfect solution for cargo management inside the bed and/or cab from shifting in any pickup truck while driving. There is a smaller cargo net, called The Interior Cargo Restraint (ICR) System protects the front passengers, by securing gear and cargo in the back seat, from shifting inside the truck while driving. The bednet cargo nets are used on pickup trucks, service body vehicles, aerial trucks, ATV, UTV, snowmobiles, stake bed trucks, dry vans and box trucks. Easily install the cargo net in a few minutes. The cargo net is available in one color dark charcoal. A nifty and durable carry bag is included.
Vehicles transporting cargo loads that are not properly secured pose a significant safety risk on our roadways and violate traffic laws. Cargo that fall off vehicles can cause substantial property damage and/or serious injuries or death. This cargo control net help secure cargo and keep drivers compliant while transporting cargo.
Made In USA
Product Dimensions
Bednet Original
Large
Medium
Small
Weight
8 lbs.
7 lbs.
6 lbs.
Width
63"
65.4"
56"
Height (Length)
85"
65"
64.5
Strap Size
4' x 4'
4' x 4'
4' x 4'
Strap Length
48"
48"
48"
Product Specifications
Product
Component
Material
Breaking Strength
All Bednet Products
Webbing
Polyester
6000 lbs.
Bednet Original
Quick Tite Buckle
Super Tought Nylon
1700 lbs.
Bednet Original
Hooks
Rubber Coated Steel
2000 lbs.