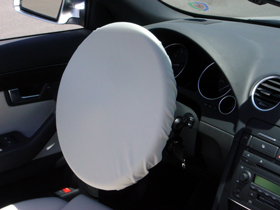 Enlarge Image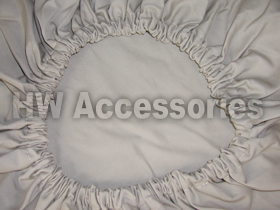 This image shows the elastic band on the backside of the Cool Wheel Cover.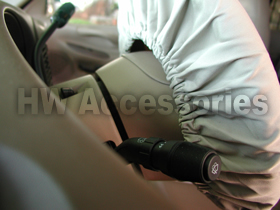 This image shows how the Cool Wheel Cover fits onto the entire steering wheel and the elastic band hugs around the neck on the backside of the steering wheel to secure cover.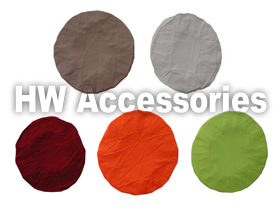 Cool Steering Wheel Covers protects all types of vehicle steering wheels from getting ruined from the sun, salt, heat, wind and water damage. This micro-fiber steering wheel cover is designed to cover the entire steering wheel from getting very hot from the heat and direct sun light. Microfiber Cool Wheel Covers help protect your hands from getting seriously burned and injured by touching the hot steering wheel. Steering wheel protection helps cool off the steering wheel enough so you can immediately drive your vehicle. This interior steering wheel cover is a one piece, one material, seamless (one seam on backside), durable and lightweight cover made from flexible, heat resistant, polyester microfiber material to reduce the surface heat about 20-30 degrees cooler. Each steering wheel cover has a sewn-in, no-roll, elastic band on the backside to cover the entire steering wheel for a secure fit. Custom Cool Wheel Covers can save the vehicle owner from spending hundreds of dollars on steering wheel restoration, repair and replacement. Cool microfiber wheel covers is used in automobiles, buses, boats, golf carts, go carts, RV's, farm tractors, tractor trailers, also used on tubas, bar stools and circular auto air filters, and in any vehicle with a steering wheel. There are two sizes offered large (standard size) (15"-18" diameter) and extra large (18"-20" diameter) and in five colors safety orange, safety yellow, desert tan, crimson red and white. The desert tan color is popular because it reflects the heat away from the steering wheel. These steering wheel covers can be personalized with embroidery or silk screen printing. Cool Wheel Covers is well used by consumers, vehicle dealers, businesses, collectors, etc. Easily store cover in any empty, convenient space within the vehicle. Easily clean in commercial or home washer and dryer. Easily install and remove cover in seconds. A one year manufacturer warranty is offered.

Steering Wheel Cover Features:

Keep the steering wheel cooler to touch

Protect steering wheel from sun damage

Easily store in any convenient space or in a
glove box inside vehicle

Take only seconds to slip on and off

The best solution for steering wheels in convertibles

Made of polyester micro-fiber for softness and durability

Machine wash and dry

Standard size fits all automobiles and light trucks

Extra large size accommodate RV's, Big Rigs & large boats
How To Clean Steering Wheel Covers:
Normal washer cycle - warm or cold. Any detergent. Can put in dryer but remove promptly when dry or can line dry. Microfiber dries very quickly.