Bucket Seats (single seat)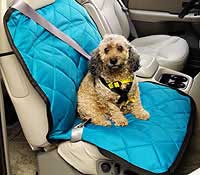 The Bucket Seat Pet Pad protects the surface and upholstery on the vehicle's front bucket and rear captain seats from dog messes and prevents seat damage. The Bucket Seat Pet Pad also protect dogs from injuries and provide a safe, quilted, comfortable, padded surface for dogs to rest on while traveling in a vehicle. This single universal dog seat cover is made for one dog to get cozy on a bucket or captain car seat. The heavy-duty Pet Pad Seat Protector is a universal (one size fits all) product that has a universal fit for front bucket and rear captain car seats only. A dog safety seat harness can be used with the pet pad seat protector. Easily clean pet pad, just hose off with water and hang to air dry.

Bucket Seat Pet Pad Features:

Heavy-Duty construction for strength and durability to withstand abuse and daily use.
Top surface made with heavy 420 denier, waterproof PVC woven coated polyester.
Backing made with 210 denier rip-stop nylon.
Middle layer is soft, high-loft, insulating Dupont® Hollofil quilted padding for comfort.
Edge bound with 2 inch black webbing is double-needle sewn for strength and take abuse.
Fits on the front bucket and captain car seats only in many vehicles.
Easy to Install with Upper & Lower Straps.
Four (4) colors offered.
Approximate dimensions H 48" x W 29".
90 Days Warranty offered with Pet Pad.