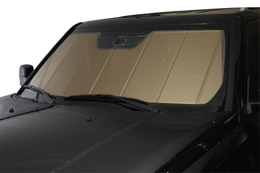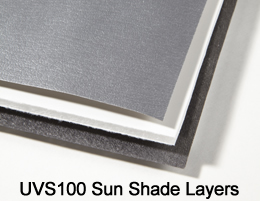 The UVS100 Custom Sunscreen help reduce the hot temperature that built up inside the vehicle on hot sunny days, and protects the dashboard, seats, shifter, center console and steering wheel from damaging UV rays that will discolor, warp, fade, dry out and ruin. The UVS100 Sunscreen also help keep the interior surfaces cooler to touch and prevent all passengers from getting injured by touching very hot interior surfaces inside the vehicle. These sunshields are custom fitted to the vehicle's windshield to ensure maximum windshield coverage and easily install. The UVS100 sun shade is also called heat shields, sun shields or UV shields, sunscreens are useful at the beach, work, airport, or anywhere your vehicle is parked. This custom heat shield can help vehicle owners avoid spending lots of money on interior restorations, repairs or replacements. This sun shade has an accordion fold for storage. A storage bag is available to store and maintain the custom sun shade. Sun shield is offered in six (6) colors.
The UVS100 custom sun shade has a silver reflective fabric on the front side to block out the sun light, and a soft felt fabric on the backside to protect the surface of the interior. Both fabrics are laminated to a foam-core board which acts as an insulator.
The UVS100 Custom Sunscreen is the only front windshield UV shield to earn a U.S. Patent. These custom sunscreens are made by hand and Crafted2Fit®, one unit at a time, from laminating the panels to cutting the pattern. There are over 500 patterns available to custom fit in the windshield in many different cars, trucks, SUVs, vans and jeeps.