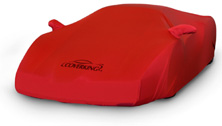 Custom Stretch Satin Car Cover
The Stretch Satin Custom Car Cover is for privately owned cars, exotic cars, collector cars, and show cars that are well maintained, rarely (pleasure driving) or never driven, parked and stored in a garage or museum, for short and long periods of time, and great for vehicle owners who want the best indoor protection for their vehicle(s).
The Stretch Satin cover protects the vehicle's delicate paint finish from dust and dirt. This car cover also protects the interior, personal property inside car, help keep privacy, and block out prying eyes and nosy people from looking inside the vehicle.
The Stretch Satin material is made from the highest quality materials polyester, lycra, spandex, and brushed fleece to make the softest, lightweight, and stretchable custom car cover to provide the best indoor protection. The polyester and lycra give a soft satin feel, the spandex provide stretchability to hug every contour line of the vehicle's body perfectly, and the inner liner uses the softest brushed fleece to protect the vehicle's delicate paint finish, and specially designed not to rub fleece fibers onto convertible tops.
Stretch Satin car covers are for indoor use only, and not for outdoor use because the cover will fade and discolor if exposed the sun light, and not water resistant.
The Stretch Satin car cover is custom made only, and has an elastic band at the bottom seam providing a snug fit around the entire vehicle, and made with the fewest seams for less chance of failing and leaking.
There are eight (8) solid colors offered black, steel gray, pearl white, burgundy red, dark blue, fly yellow, tan, and forest green. There are four (4) customized options offered embroidery, licensed GM logos offered, silkscreen printing, and custom stitching, and three (3) cover accessories offered secure cable and lock kit, car cover storage bag, and duffel bag.
A one year manufacturer warranty offered with car cover.