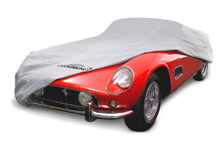 Triguard Material - Gray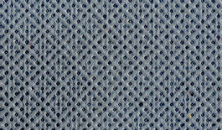 Triguard Car Covers
The Triguard custom car cover is great for vehicle owners who want a custom fit car cover, but don't need protection from heavy weather conditions.
The Triguard custom car cover is made to protect the vehicle's exterior delicate painted finish from dirt, dust, light water, bird droppings and many other mild hazards. This car cover also protects the interior, block out prying eyes and nosy people from looking inside the vehicle, protect personal property inside the vehicle, and offer little protection from minor dings, dents and scratches. The Coverbond 4 car cover is recommended to use in crowded garages, carports, or car show in a building.
The Triguard cover is perfect for indoor use in a garage, carport, or car show in a building, and can be used occasionally outdoors in light weather conditions (breezy, no rain, mild sun, etc.). DO NOT USE the Triguard cover in heavy weather conditions, intense sun light climates, and in areas with industrial fall out (acid rain).
Since the Triguard material has 3-layers, first is the inner layer provide protection against the elements, and the two outer layers provide strength and durability. The Triguard material is treated with UV inhibitors, to help the car cover material stand up to ultra-violet rays emitted by the sun. Although the Triguard™ material contains UV inhibitors, it is NOT RECOMMENDED to use Triguard covers in very sunny climates. The Silverguard™ car cover or Stormproof™ car cover is recommended to use in very sunny climates.
Triguard™ covers are offered in gray only. There are three (3) customized options offered embroidery with licensed GM logos (GM logos optional), silkscreen printing, and custom stitching. There are three (3) cover accessories offered secure cable and lock kit, car cover storage bag, and duffel bag. One year warranty offered with car cover. Triguard™ Custom Car Covers can be custom made in just 2 business days.