Secure in Vehicle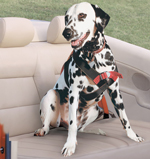 Use as a Leash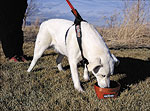 Secure in Cargo Area


The Roadie Dog Safety Harness was carefully designed to keep dogs safe and secure during sudden stops, sharp turns and extreme situations. It was rated as the "Best Canine Restraint" worldwide by a leading University School of Veterinary Medicine. The Roadie Harness is Not Designed to fit skin-tight like other dog harnesses; A loose fit assures all dogs stay comfortable and secure.
Your Dog's Safety Rides On It!
Roadie Dog Safety Harness:

Strongest dog safety harness for all dogs traveling in any vehicle, walking, riding, exercising and exploring the outdoors.
Dog Harness attaches to any vehicle's seatbelt system.
Dog seatbelt (harness) can be used in the cargo area in SUV's.
Designed for the dog's comfort, NOT a collar-type restraint that can choke and irritate the dog's neck and throat.
The dog seatbelt (harness) applies even pressure over the dog's chest and shoulders.
Exceeds S.A.E. strength standards. (5,000 lbs. for a human seat belt). Helps prevent injury to the dog and vehicle occupants in case of a crash.
Three-position adjustable strap allows you to control the dog's movement inside the vehicle.
Harness lead allows the owner to walk their dog, and you can add a leash for even more movement and control.
Construction strength far exceeds any other dog seatbelt (harness) on the market.
Minimizes driver distraction.
Quick and easy to put on and remove.
Easy to clean.
Veterinarian approved.

Have questions call 1-888-839-0121 or
Email