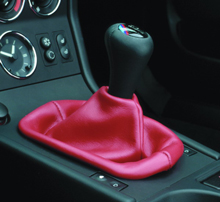 Genuine Leather Shift Boot Covers
These Genuine Leather Shift Boots are the finest, most luxurious and sporty shift boots available for sports cars. Leather shift boots are made to improve and complement the appearance of the interior inside sports cars. These shift boot replacements is a cheaper and excellent way to save the vehicle owner money, to replace damaged and worn out shift boots, and to upgrade from a vinyl or rubber shift boot. Each shift boot is hand made and sewn together, from high quality domestic genuine cowhide (leather), and with the care and attention to detail that has made these luxurious shift boots famous, these shift boots make a powerful statement in auto interiors.

Two types of Shift Boots are available. The universal shift boot design features a 3-way fit system to accommodate most vehicles. The shift boot replacements are also made for specific vehicles such as Porsche, BMW, Honda, Volkswagen, Miata, Corvette, Pontiac and others. There are 15 leather colors offered. Easy to install.