Insert Rack Cab Guard
The INSERT RACK is designed to complement the truck's exterior appearance by offering inserts with four distinct designs. The four distinct insert designs are Louvered (LV), Three Round (TR), Side Mesh (SM) or Three Light (TL) (Lights not included in TL insert). All 4 inserts come in pairs and simply bolt into the frame using five stainless steel cap screws per side. All 4 inserts are dipped in a 12 stage Electrostatic coating process prior to powder coating for double corrosion resistance and ensure that no area of the inserts are exposed to the outside elements. The frame's center section remains unobstructed and ideal to access the rear sliding window, truck bed and have clear visibility out the rear window. The INSERT RACK'S 2" square tubular frame, is constructed from American made Hot Rolled Pickled and Oiled (HRPO) steel, weld joints together for strength, durability and last a long time, finished with a very durable, black, powder coating, protecting the rack from rust, corrosion, scratches and have a smooth, professional look. Every steel frame has steel end caps welded at the ends of each square steel tube and attached to rail mount brackets to prevent the tubes from collapsing under pressure. The extra-long top horizontal steel bar and sturdy structure supports, secures and manages the increase of long items such as lumber, ladders, pipe etc. and cargo carrying capacity. The rack's low profile design allow trucks to park in any personal or multi-level garage. The side rails and rear bar are used with the rack for more cargo control in and/or on the truck bed. The INSERT RACK is compatible with certain
Tonneau Cover Brands
. This utility rack is used on fleet, work and privately owned pickup trucks. Truck rack easily bolts onto the truck bed in minutes. No drilling required on most late model pickups. Easily attach lights and accessories onto tool rack. INSERT RACK frame sold separately in one box, and necessary hardware kit include install instructions are sold separately. All racks are offered in black only. Other colors maybe offered by quantity and request only. A limited lifetime warranty offered with rack.
Order Rack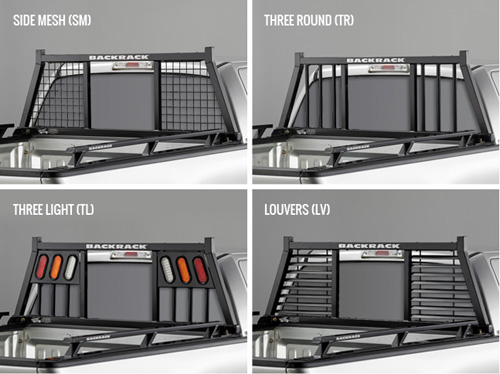 INSERT RACK Dimensions & Weight
Rack Height: 26"
Rack Width: 2.5"
Rack Length: 72.5"
Rack Weight: 70 lbs.
NOTE: Standard dimensions shown. Rack dimensions may vary with certain truck models.
INSERT RACK Accessories
Siderails
Rear Bar
Tonneau Cover Adaptor (TCA)
NOTE: All accessories sold separately.
INSERT RACK Brackets and Holders
21" Toolbox Brackets
31" Toolbox Brackets
Multiple Light Brackets
Landscaping Tool Holder
Mining Whip Holder
Antenna Bracket
NOTE: All brackets and tool holders not included with rack, sold separately.
INSERT RACK Hardware Install Kits
Standard No Drill: Is used on trucks that will not have a cross bed Toolbox behind the cab. Hardware Kit is compatible with TONNEAU COVER ADAPTER Brackets.
Toolbox No Drill: Is designed to accomodate a standard 21" cross bed Toolbox. The Toolbox sits on top of the Toolbox Brackets allowing the Toolbox to slide forward without wasting bed space. Not compatible with TONNEAU COVER ADAPTER Brackets.
Low Profile Drill: Is available for selected late model fullsize trucks. It is required to drill two holes through the top of the bed rail to install a toolbox. Not compatible with TONNEAU COVER ADAPTER Brackets.
Lights Mount Onto Rack
Work Lights
Warning Lights
Emergency Lights
Utility Lights
Strobe Lights
Arrow Sticks
Light Bars
INSERT RACK Warranty
our warranty is limited to the materials and workmanship used in the manufacture
of our products. Powder Coat finish is not covered under warranty.
Read More