HWA Accepts:


The best way to protect your favorite ride from corrosion,
mildew, dings, dents, scratches, dust, pets and children!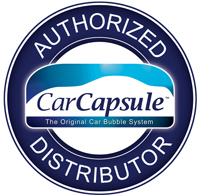 The Indoor ShowCase encapsulates and protects a vehicle 24/7-365 days a year from bad indoor conditions only. The Indoor ShowCase is an ultra-premium, free-standing, touchless car cover is the next evolution of CarCapsule™ technology. This Showcase is made for indoor use only, in most car shops, garages or storage facilities. A vehicle is stored in a dust free, dry; sterile, climate and pristine enclosed environment filled with pure air. Vehicles are protected from dings, dirt, dust, corrosion, mildew, musty odors, rust, fingerprints, pets, kids, nosy people, rodents, etc. The Deluxe Showcase maintains that "showroom shine" all-year-round for a vehicle stored inside. The Indoor ShowCase Storage System is larger in size and spacious inside than the Indoor CarCapsule to store a vehicle and one person can move around inside. The Indoor Car Showcase can be transported to another indoor storage location. Easily inflate and setup the ShowCase in about four (4) minutes. Simple setup, inflate Showcase, drive and park the car inside and then close. There are ten (10) Showcase lengths offered 10ft., 14ft., 16ft., 18ft., 18ft. Tall, 20ft., 20ft. Tall, 22ft., 22ft. Tall and 36ft. One year manufacturer warranty offered against all defects with workmanship and materials.

Indoor ShowCase Features:

ShowCase Dimensions: L: 176" x W: 111" x H: 78"
No assembly required, No tools, No metal parts inside, No metal or plastic frame, and No bare metal.
Front access door panel provides convenient drive-in and drive out.
Ten (10) 0.35mm thick clear PVC window panels for visibility.
Structure supported with 16, black, 0.60mm thick, Heavy Duty PVC air chambers only. No metal or plastic frame!
Hot Air Welded PVC Seams for strength and durability.
0.45mm Heavy Duty PVC base mat (floor) is mildew, abrasion and flame resistant. Impervious to oil, gas, diesel and antifreeze.
Rust free; 100% nylon coil zippers with "dual pulls" and rubber grips for easy access from either side.
Eight (8) steel D-rings to secure Showcase in place.
2 Side access door panels provide easy walk-in entry and exit of ShowCase. Easy access to vehicle.
Pressure sensitive and reversible pump maintains air chambers and inflate ShowCase.
One intake valve used to inflate, deflate and maintain air pressure.
One 190 CFM @ 4200 RPM, dual ball bearing fan.
One Washable Charcoal Air Filter.
6 straps and plastic clips hold the access panels rolled up, in place, when opened.
12 Volt, 1.5A power transformer.
Include: 1 pump, 1 circulating fan, 1 power supply, and 1 washable charcoal air filter.
Low Power Consumption about $1.50 per month
1-year manufacturer warranty.
Ships in 2 boxes.
Air Filter

The single washable charcoal air filter, provide better air filtration, constantly filter the airflow, allow pure air to enter into the Showcase without dirt, dust and insects.




Wash: Wash the air filter with mild dawn dishwashing detergent and warm water mixture, use clean towel to wipe off contaminants, thoroughly rise with water and then air dry.
Power Source

The 12 volt, 1.5A power transformer provide power to the single fan system to keep the fan running.
Fan System

The 12 volt high pressure 190 CFM single fan system at 4200 RPM provide continuous filtered airflow, constantly circulate the airflow inside and inflate the Showcase. The rugged, heavy duty fan operates for less than $1.50/month.
Clean and Maintain

To properly clean and maintain the Showcase, use the California Car Duster to dust off the outside. Hand clean, using windex or mild Dawn dishwashing liguid soap and warm water mixture with paper towels or a clean, soft, white, cotton clothe to wipe off the outside and inside, rinse thoroughly with water, then air dry or dry with clean cotton clothe before using. Also, use a garment steamer to remove the wrinkles out of the clear and black PVC vinyl surfaces for wrinkle free vinyl to be presentable. The steamer can touch the vinyl without damaging the PVC. Wipe off water with a clean cotton towel.
Evaporative Storage Technology (E.S.T.)

The Evaporative Storage Technology (E.S.T.) keeps the vehicle dry by changing the air inside the Showcase 3 - 4 times per hour, and prevents moisture from condensing onto the vehicle. The constant airflow and circulation prevents corrosion, mildew and awful musty odors. The temperature inside the Showcase remains consistent and always equal. The air filter and fan create the E.S.T.
IntelliCharge

The IntelliCharge is an all-in-one battery charger and power backup system. The IntelliCharge maintains the car's battery and a backup power source for the Showcase's inflation and air circulation fan(s) to keep the CarCapsule inflated during a power outage. The IntelliCharge ensures that the high power 190CFM fan, that is the key factor of the E.S.T. (Evaporative Storage Technology), promotes continuous airflow go uninterrupted for 30 - 40 Hrs. depending on battery size, (capacities vary) in case of a power outage. Once the power resumes the charger will revert back to maintaining the car's battery. The IntelliCharge will continue to power and inflate the CarCapsule until your battery reaches the lowest cranking amperage 12.2 volts, and then stop drawing power for the fan, and save that power to start the vehicle; now that's an intelligent charger. The IntelliCharge works on all Original CarCapsule models all the way up to the current indoor single panel models. This is a dual voltage 110/240 single fan unit. Single Fan Models Only. Charger sold seperately.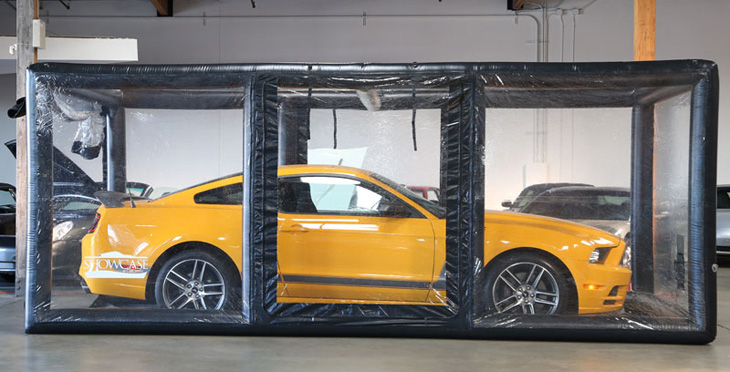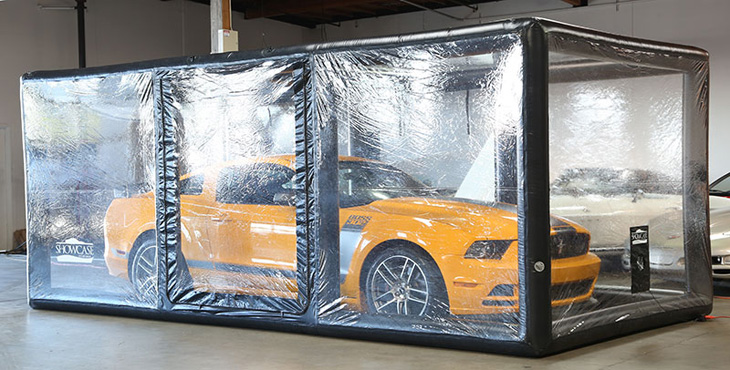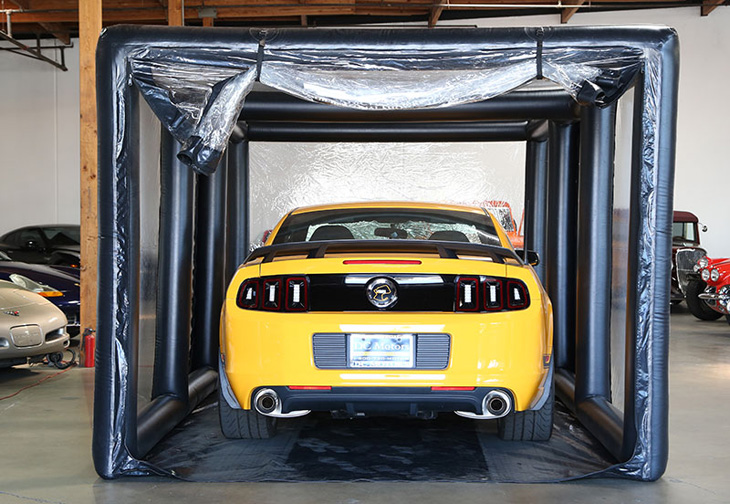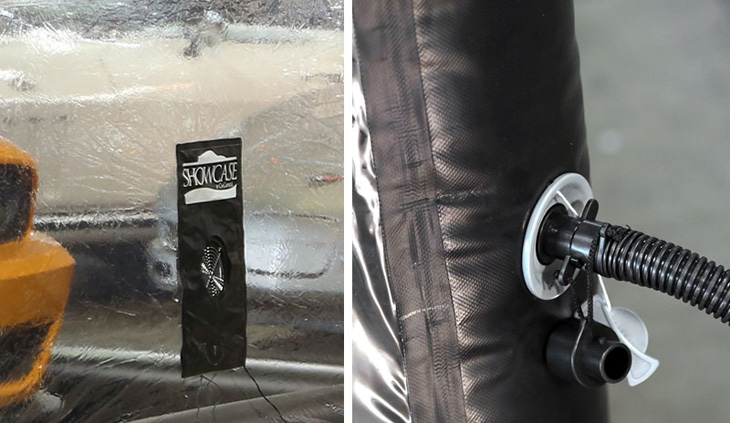 CarCapsule Warranty & Guarantee
The CarCapsule is guaranteed for one year against all defects in workmanship and materials. Repair or replacement will be made upon receipt of product by CarCapsule USA freight prepaid. Using the CarCapsule outdoors will void all warranties. Please contact the place of purchase prior to shipping for warranty work.
THIS WARRANTY IS THE SOLE AND EXCLUSIVE WARRANTY GIVEN WITH RESPECT TO THE PRODUCT AND ALL OTHER EXPRESS WARRANTIES ARE HEREBY EXCLUDED, INCLUDING THE WARRANTY OF IMPLIED MERCHANTABILITY. NEITHER CARCAPSULE USA NOR AN AUTHORIZED CARCAPSULE PRODUCT DEALER WHO SELLS THE PRODUCTS IS RESPONSIBLE FOR INDIRECT, INCIDENTAL OR CONSEQUENTIAL DAMAGES. SOME STATES DO NOT ALLOW LIMITATIONS ON HOW LONG AN IMPLIED WARRANTY LASTS AND/OR DO NOT ALLOW THE EXCLUSION OR LIMITATION OF INCIDENTAL OR CONSEQUENTIAL DAMAGES SO THE ABOVE LIMITATION ON IMPLIED WARRANTIES AND/OR THE LIMITATION OR EXCLUSION OF CERTAIN DAMAGES MAY NOT APPLY TO YOU.
Order Your Indoor ShowCase Here