HWA Accepts:


Original Indoor Showcase Storage System
The best way to protect your favorite ride from corrosion,
mildew, dings, dents, scratches, dust, pets and children!
Introducing The NEW ShowCase storage cover. The indoor ShowCase Storage System is an exceptional product that is designed as the first touchless and inflatable car cover on the market with its patented self-supporting air chambers and continuous filtered air flow system that completely protects any vehicle stored indoors from dings, dirt, dust, corrosion, mildew, musty odors, rust, fingerprints, pets and children, nosy people, etc. The indoor storage ShowCase is larger in size than the original indoor and outdoor carcapsules and provide a lot more storage space to store any vehicle inside. There are three (3) access panels, the two side access panels allow easy entering and exiting from the left and right sides to comfortably and easily access the vehicle, and the front access panel allow any car to easily drive-in and drive-out, and the front panel easily rolls up and straps in place. There are 11 PVC vinyl, see-thru windows to see the vehicle inside from all angles. This ultimate storage capsule can be used in most garages and storage facilities. Easily inflate and setup the ShowCase in five (5) minutes. There are five (5) sizes offered 14', 16', 18', 20', and 22'. A one year manufacturer warranty is offered against all defects with workmanship and materials.




ShowCase Features:

ShowCase Dimensions: L: 176" x W: 111" x H: 78"
No assembly required, just fill it up
Convenient Drive in - Drive out access.
10 0.35mm clear PVC window panels.
Supported by 0.60mm Heavy Duty PVC air chambers only. No metal or plastic frame!
0.45mm PVC basemat (floor) is mildew, abrasion and flame resistant. Impervious to oil, gas, and antifreeze.
Rust free; 100% nylon coil zippers with "dual pulls" for access from either side.
Side access door panels provide easy walk-in entry and access to vehicle.
Pressure sensitive pump to maintain air chambers
Fan: 190 CFM @ 4200 RPM, dual ball bearing, for continuously filtered airflow.
Washable Charcoal Filter eliminates dirt & dust
12 VZolt, 1.5A power transformer.
Includes pump, circulating fan, power supply, and washable charcoal filter.
Low Power Consumption about $1.50 per month
1-year manufacturer warranty.
Ships in 2 boxes.
Ships in 2 boxes.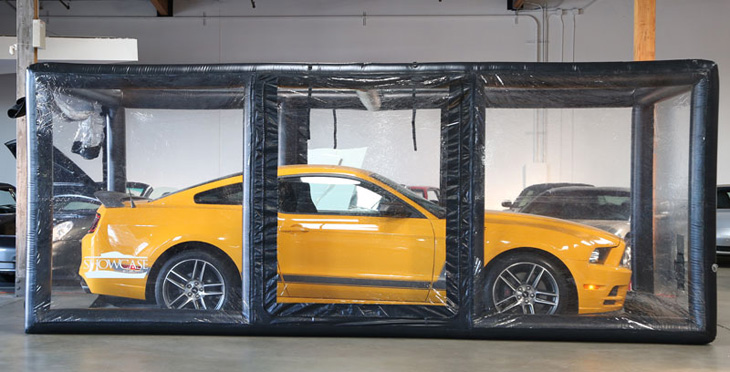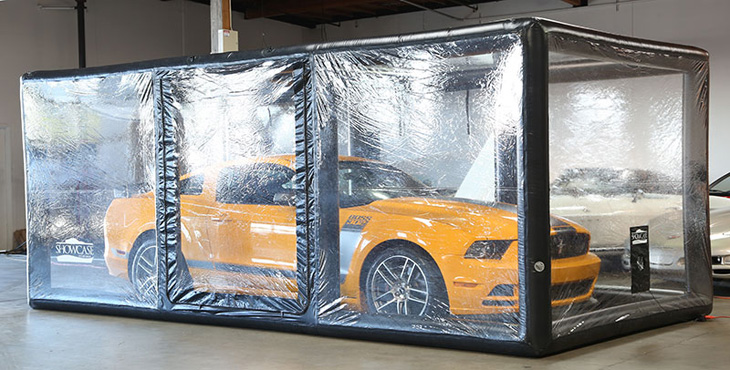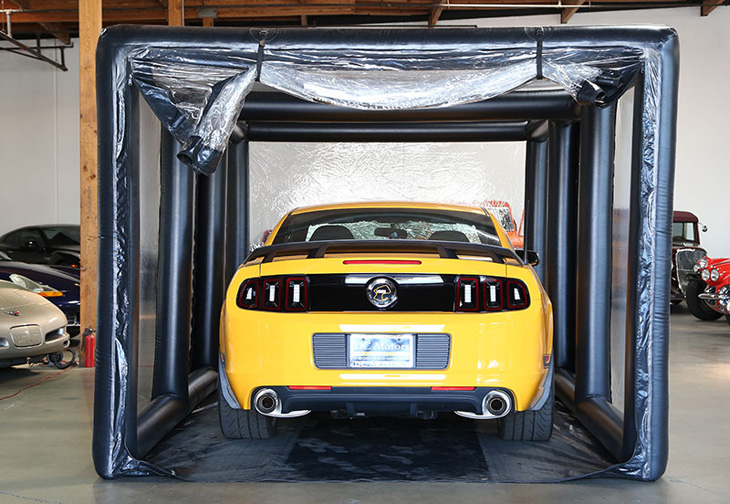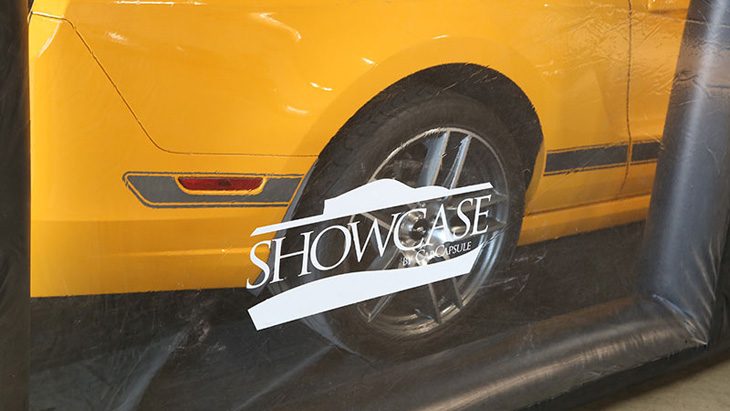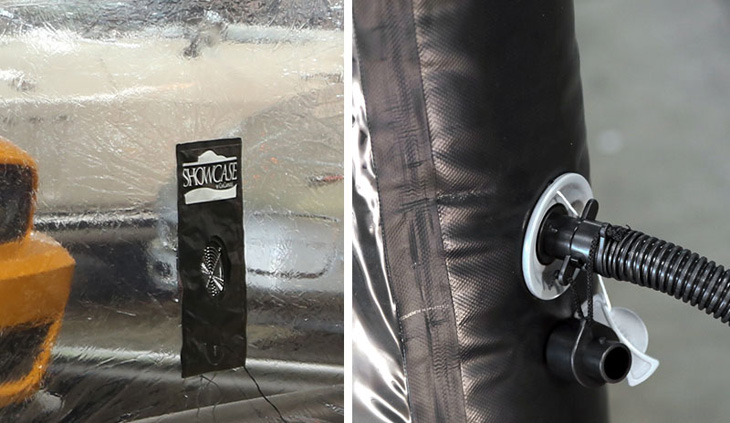 CarCapsule Warranty & Guarantee
The CarCapsule is guaranteed for one year against all defects in workmanship and materials. Repair or replacement will be made upon receipt of product by CarCapsule USA freight prepaid. Using the CarCapsule outdoors will void all warranties. Please contact the place of purchase prior to shipping for warranty work.
THIS WARRANTY IS THE SOLE AND EXCLUSIVE WARRANTY GIVEN WITH RESPECT TO THE PRODUCT AND ALL OTHER EXPRESS WARRANTIES ARE HEREBY EXCLUDED, INCLUDING THE WARRANTY OF IMPLIED MERCHANTABILITY. NEITHER CARCAPSULE USA NOR AN AUTHORIZED CARCAPSULE PRODUCT DEALER WHO SELLS THE PRODUCTS IS RESPONSIBLE FOR INDIRECT, INCIDENTAL OR CONSEQUENTIAL DAMAGES. SOME STATES DO NOT ALLOW LIMITATIONS ON HOW LONG AN IMPLIED WARRANTY LASTS AND/OR DO NOT ALLOW THE EXCLUSION OR LIMITATION OF INCIDENTAL OR CONSEQUENTIAL DAMAGES SO THE ABOVE LIMITATION ON IMPLIED WARRANTIES AND/OR THE LIMITATION OR EXCLUSION OF CERTAIN DAMAGES MAY NOT APPLY TO YOU.
Order Your Indoor ShowCase Here