HWA Accepts:

HWA Ships With:

Custom Car Covers
Coverking's goal is to manufacture superior Custom Car Covers that fits perfectly, make each material with high ratings, look excellent, provide strength and other features. Coverking Custom Car Covers are made out of six (6) top quality materials Satin Stretch™ (indoor use only), Triguard™, Coverbond4™, MOSOM™, Silverguard™ and Stormproof™ (severe weather protection) offered in solid and two tone colors to choose from to improve vehicle body appearance. Coverking designs car cover materials in-house and contracts production of the fabric to the world's leading textile mills. Coverking refuses to use "off the shelf" fabrics, low grade and second hand materials - such materials rarely meet the unique and demanding needs of a car cover material. All of Coverking's car cover materials must meet strict quality standards before using for new Custom Car Cover production and are not over-runs, "OEM seconds", low grade materials or "off color". These Custom Car Covers are easy slip-on covers that only takes less than half an hour to install a pair!
Click on links to quickly browse this page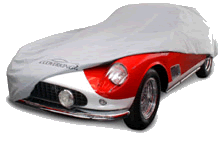 Coverking's Coverbond 4™ Custom Car Cover has four (4) layers that make Coverbond 4™ a very thick and bulky Custom Car Cover. It is not suggested for daily users, or for people with large SUVs. However, the extra bulk helps guard the vehicle against minor nicks, dings, scratches and even in light hail. Coverbond 4™ is suggested for moderate weather or indoor use.

Coverking Triguard™ Custom Car Cover protects the vehicle's exterior as well as the interior from sun damage, blocks out prying eyes and nosy people from seeing inside the vehicle (and acting as a theft deterrent). Custom Car Covers can help the environment by reducing the use of water for car washing. Coverking Custom Car Covers are a great way to protect vehicles parked at airports or near industrial sites. In very sunny climates, they keep the interior cooler and in winter they keep the snow off the glass. Because Coverking insists on using the fewest seams during the making of their Custom Car Covers each cover looks like one whole piece of material.
Pattern & Design

Coverbond 4™ Custom Car Covers are available only with Coverking's famous Custom Fit and the unique pattern designs which result in the fewest seams possible - Compare the images on the left. Coverking uses the fewest seams to produce a perfect, custom fit without the "patchwork" look created by sewing small pieces together. Although it costs more, Coverking's designs result in superior fit, looks, and less chance of seams failing or leaking.
Logos silk-screened onto the front of the cover is a very popular option for many owners.
Nomex treatment is a popular choice for sports cars or modified cars with protruding exhaust pipes. Nomex is a DuPont material which is heat insulated and fire retardant. Coverking stitches a wide band of Nomex around the rear inside the cover, and a reinforcement layer of material on the outside. This customization helps to prevent material from burning or melting onto hot exhaust pipes.
All Coverking custom covers are stitched with white thread.
Coverking's reflective treatment adds special light-reflective strips sewn strategically throughout the cover. This is especially useful for vehicles parked on busy streets.
Two tone color options; such as black and red or black and yellow, produce a very sporty look (not a customization, but rather a material code)

Protects Vehicle Finish
Block UV rays that can bleach the color from paint.
Stop bird droppings from etching vehicle finish.
Some fabrics reduce water spots that can permanently mar the finish.
Helps To Protect Interior

Keeps vehicle interior cool on sunny days.

Reduces interior fabric fading from the sun's rays.

An excellent theft deterrent - prevents prying eyes from seeing valuables inside vehicle.

Coverking Custom Fit
The best fit available.
Perfect fit means no tight spots or loose areas in cover.
All patterns designed on sophisticated CAD equipment.
Coverking has a wide selection of materials, each material selected meets a particular cover need and budget. Below are the 6 ratings used for Custom Car Cover Materials, and an explanation of each. A "5 Rating" is the highest rate each material can get.

3

3

1

3

3

3

| | |
| --- | --- |
| | Water Resistance is a relative grade of how much water will penetrate the fabric. A "5" signifies the most water resistant material. WATERPROOF materials will not breathe, trapping moisture. All Coverking materials are water resistant, not waterproof. |

| | |
| --- | --- |
| | Breathability describes how much moisture vapor trapped under the vehicle can escape through the cover. If a material is not breathable, it will trap moisture and cause rust. A "5" signifies the most breathable material. |

| | |
| --- | --- |
| | Compactness measures how easily the material is to pack, and how small the final packed cover is. A score of "5" identifies the most compact cover. This is an important attribute if you will use your cover often. |

| | |
| --- | --- |
| | The Sun's UV Rays damage a vehicle's interior, finish, and also the car cover material. Materials with a "5" rating are most likely not to degrade under extreme sun conditions. |

| | |
| --- | --- |
| | Natural and Man-Made Hazards, such as bird droppings, tree droppings and industrial fall out are very acidic, and can eat through a car's finish. A score of "5" identifies the material most resistant to these dangerous chemicals. |

| | |
| --- | --- |
| | All Coverking materials are designed not to scratch a vehicle's finish (make sure vehicle surface is clean when the cover is installed). However, some materials are softer than others. A "5" rating is the softest. |
All S&H cost will be added to your order once your
WeatherShield Cover is complete and has been shipped out.