HWA Accepts:

HWA Ships With:



Custom Car Covers
Coverking's Custom Car Covers will protect all vehicles from hazards and clumsy situations at the same time providing a clean and custom fit cover.

Brand NEW Custom Car Covers are much cheaper to buy and will save you lots of money in the long run to protect, restore, maintain or just keep your vehicle in excellent condition instead of spending a ton of money with a qualified restoration shop or body shop to do expensive body work just to bring back the original
appearance and most of the time the vehicle is never the same once a body shop, restoration shop, dealer and even factory does any kind of work on your vehicle.

Coverking Custom Car Covers keep the body, paint and appearance original. Custom Car Covers can also improve the value of you vehicle for resale. Coverking spares no expense in making a Custom Car Cover that fits perfectly, and is made with fewest seams possible. Coverking developed the widest selection of Custom Car Cover materials, choosing to engineer it's own fabrics instead of relying on "off the shelf" materials. Coverking has also pioneered the use of car cover fabrics made in colors, two tone designs and reflective treatment. Coverking is officially licensed to silkscreen and embroider GM logos and other designs offered. Coverking Custom Car Covers are made using advanced CAD/CAM design and production systems. Coverking is TS16949 certified and QS-9000 quality certified. Even Monsoons can't get through a Coverking Custom Car Cover parked on an Island in the Indian Ocean! Coverking recently offers a standard two day (48 hours) production time for all Custom Car Covers at no extra cost!
Click on these links to browse this page
Click on any car cover image to view and order a Custom Car Cover

Place cursor over any cover rating for details

| | |
| --- | --- |
| | Water Resistance is a relative grade of how much water will penetrate the fabric. A "5" signifies the most water resistant material. WATERPROOF materials will not breathe, trapping moisture. All Coverking materials are water resistant, not waterproof. |

| | |
| --- | --- |
| | Breathability describes how much moisture vapor trapped under the vehicle can escape through the cover. If a material is not breathable, it will trap moisture and cause rust. A "5" signifies the most breathable material. |

| | |
| --- | --- |
| | Compactness measures how easily the material is to pack, and how small the final packed cover is. A score of "5" identifies the most compact cover. This is an important attribute if you will use your cover often. |

| | |
| --- | --- |
| | The Sun's UV Rays damage a vehicle's interior, finish, and also the car cover material. Materials with a "5" rating are most likely not to degrade under extreme sun conditions. |

| | |
| --- | --- |
| | Natural and Man-Made Hazards, such as bird droppings, tree droppings and industrial fall out are very acidic, and can eat through a car's finish. A score of "5" identifies the material most resistant to these dangerous chemicals. |

| | |
| --- | --- |
| | All Coverking materials are designed not to scratch a vehicle's finish (make sure vehicle surface is clean when the cover is installed). However, some materials are softer than others. A "5" rating is the softest. |
Car Cover Pattern Fit and Design
Car Covers use at lot of material at least 30 yards which is common for most vehicles. In an effort to save material, some car cover manufactures use patterns which are "chopped up" into small pieces, and sewn together creating a patchwork effect. This method saves more than 20% of total material use, but results in car covers which look like patchwork quilts – seams everywhere. By having extra seams, risks of seam failures and seam leakage increase. In addition, the car cover looses it's custom look and resembles a universal cover. Coverking has never compromised the function or fit of it's Custom Car Covers to save a few yards of fabric.
Car Cover Materials
The qualities that make a Car Cover suitable for use depend largely on the fabric ratings. Coverking designs it's own fabrics, and has the world's leading textile mills handle the manufacturing. Because Coverking has a team of engineers to specify exact material composition and construction, we are able to meet the most stringent material test requirements set out by the world's leading vehicle manufacturers. Coverking does not use "off-the-shelf" fabrics, which isn't suitable to car cover needs.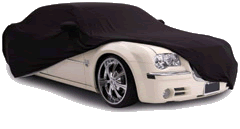 All of Coverking's outdoor Custom Car Cover materials are breathable that allows moisture and heat that gets trapped under the cover to escape through the cover, preventing a "greenhouse" condition of condensation (moisture) and heat which may result in rust, paint and body damage. Coverking pioneered colored materials and two tone designs for outdoor use. Coverking Custom Car Covers are designed to withstand the color fading effects from the sun.
Car Cover Construction
Coverking Custom Car Covers are designed and cut on sophisticated CAD/CAM systems, which Coverking pioneered twenty years ago. All outdoor Coverking Custom Car Covers are sewn using double needle and overlapped seams, resulting in a durable, leak resistant seam which has a backup stitch if the main stitch fails. Coverking's indoor Satin Stretch™ fabric is sewn with a "blind seam" which is ideal for indoor use, show-car conditions, long and short term storage are the reasons why this fabric was designed. Coverking Custom Car Covers have neoprene elastic tensioners sewn into the front and rear of every cover.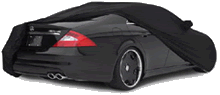 Protected grommets for the optional security kit are sewn into the sides to be hidden, so the gromments won't be visible when the car cover is covering a vehicle. All outdoor Custom Car Covers are sewn with heavy, wax coated thread. The thin coating of wax helps to seal the fabric where the needle pierced through, reducing the chance of leakage through the seam.